He Chose the Nails
Max Lucado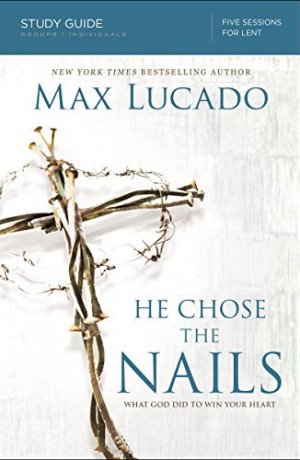 Information
Title: He Chose the Nails

---

Author: Max Lucado

---

Category: Lent

---

Serial #: BV 85 LUC

---

Location: Anglican Resource Centre

---

Audience Home groups
Description:
Every gift form God reveals his love, but no gift reveals his love more than the gifts of the cross. These gifts came not wrapped in paper but in passion. They were not placed around a tree but around a cross. They were not covered with ribbons but sprinkles with the blood that Christ shed on our behalf.
In this five-session video Bible study, Max Lucado explores the many gifts that Christ provided to us at his crucifixion. These include not only the gift of the cross but also the gift of the thorns that pierced his brow. The nails that tore his flesh. The seamless robe that he removed for us. The empty tomb where he forever defeated sin and death.
The hill of the cross is rich with the fits of God's grace. These were gifts he didn't have to give. The only required act for our salvation was the shedding of blood, yet God did so much more. So, as we unwrap these gifts, we need to pause and listen for his voice. As we do, perhaps we will hear him whisper, "I did it just for you."
The He Chose the Nails Study Guide includes video discussion questions, Bible exploration, personal study and reflection materials for in-between sessions, and an additional session for churches and small groups using this study as part of Lent.