Holy Spirit: Through Lent With 1 Corinthians
Books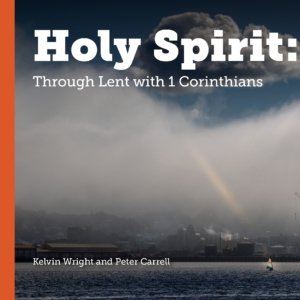 Author
Kelvin Wright and Peter Carrell
---
Audience
Created for a home group bible study
---
Category
Books
---
Description
Similar to previous years, this booklet, published in 2019, is suitable for personal or group study.  Covering the six weeks of Lent, plus two extra studies for the Easter season, the studies offer a brief introduction to the First Epistle to the Corinthians:
Study One: The Holy Spirit reveals spiritual truth (1 Corinthians 2:1-13)
Study Two: The Holy Spirit makes us God's temple (1 Corinthians 6:12-20)
Study Three: The Holy Spirit activates gifts in us (1 Corinthians 12:1-11)
Study Four: The Holy Spirit unites us in one body (1 Corinthians 12:12-20)
Study Five: The Holy Spirit enables genuine love (1 Corinthians 13:1-13)
Study Six: The Holy Spirit teaches us the meaning of the cross (1 Corinthians 11:23-26)
Study Seven: The Holy Spirit and the resurrection of Jesus (1 Corinthians 15:1-9)
Study Eight: The Holy Spirit gives us new life (1 Corinthians 15:35-46)
Further Information
This book comes in two formats
as an electronic copy that you can purchase on Amazon
or as a hard copy that can be purchased from Theology House. Price is $8.50 per copy, plus P&P.
Click the link below to download a sample of one chapter.